Collagen + hyaluronic acid is a composition of hydrolysed bovine collagen, hyaluronic acid and vitamin C. Collagen is a protein found in the human body. It is the main component of connective tissue. It is not only a part of the skin, but also of the tendons, hair, bones, nails and joints. Hyaluronic acid, along with collagen, is a key component of the so-called intracellular matrix of dermis and is the main component of synovial fluid. Vitamin C helps in the regular production of collagen to ensure the proper functioning of blood vessels, cartilage, bones, gums and skin.

Precautions: Do not exceed recommended daily allowance. Do not use in case of allergy to any of the ingredients. The product is for adults. Consumption of the product is not recommended for pregnant and breastfeeding women. The product cannot be used as a substitute for a varied diet. It is important to lead a healthy lifestyle and maintain a balanced diet.

Storage conditions: Protect from light. Store in a tightly closed packaging, at room temperature, in a dry place, out of the reach of young children.

Recommended daily allowance of the product necessary to obtain a beneficial effect of the product: Consume 2 capsules a day. Wash down with water (250 ml). The recommended daily allowance is 2 capsules.

Ingredients: Hydrolysed bovine collagen (from collagen of type I and III), capsule shell: gelatin, vitamin C (L-ascorbic acid), hyaluronic acid (sodium hyaluronate).
| | |
| --- | --- |
| Ingredients in a daily intake |  1 capsule |
| Hydrolysed bovine collagen | 900,00 mg |
| Hyaluronic acid | 50,00 mg |
| Vitamin C | 80,00 mg (100% NRV)* |
*NRV – Nutrient Reference Value


The product does not contain fillers, anti-caking agents and dyes.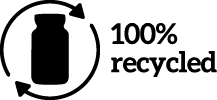 Manufacturer: Pharmovit Dystrybucja
Spółka z ograniczoną odpowiedzialnością
ul. Kostrogaj 9D, 09-400 Płock, Polska